A ground-breaking invention changes the world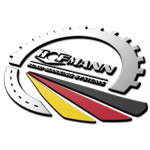 In 1911, Edward E. Hines laid the first center line on the Woodward Avenue in Detroit, Michigan. Orderly lanes and greater safety in road traffic were the result of this useful and creative idea. In the meantime - more than 100 years later - lane separations can be found almost everywhere in the world. The technology behind the road marking technology progressed rapidly in the last few decades - the Rellingen-based HOFMANN company used its competency and customer orientation to continually adapt to the requirements of the market.
For more than 60 years now, HOFMANN has been numbered among the leading manufacturers of road marking technology, using its expertise to make itself heard internationally. Products, such as self-propelled ride-on machines, roadmarking trucks, small hand-controlled machines, drying and line remover machines, as well as melting machineries of thermoplastic materials cover all primary and essential areas of road marking technology. Conceptional system solutions and overall solutions according to customer request are a welcome challenge for HOFMANN - the company also professionally supports its customers up to the commissioning of the machines and devices.
The fascination of road marking technology - international exchange on the annual TechnologyDay
Each year, the international TechnologyDay hosted by the traditional HOFMANN company based in Rellingen, Germany, offers lasting impressions of road marking technology in the form of technical lectures, discussions, and practical demonstrations. Experts from five continents have been meeting at this trade show since 2001 in order to exchange knowledge regarding technical innovations, scientific aspects as well as sophisticated machine technology from all around the globe. With its annual TechnologyDay HOFMANN has been organizing the probably largest and most important meeting point for industry-related service providers and national as well as international representatives of these industries. This event has been gaining increasing worldwide popularity for those reasons.
The trade show serves as an important communications platform for different groups in the area of road marking: material manufacturers, marking companies, ministerial authorities, official representatives, or scientific lecturers - the TechnologyDay unites national and international industry representatives for valuable networking. The trade show offers its visitors adequate scope to exchange news with like-minded people and colleagues, make contacts, and to pursue discussions.
The HOFMANN TechnologyDay has that convincing certain Something
The HOFMANN company knows exactly what it comes down to, technically speaking, and acquires first-class specialist lecturers as well as presenters for its TechnologyDay every year. It is of great importance to the organizers Frank Hofmann, Senior Partner, and Jan Hofmann, Junior Partner, the Head of Sales and Marketing, Torsten Pape, as well as their approximately 100 committed employees to provide the entire program in different languages to all national and international guests each year. Meanwhile, it has become absolutely natural for the traditional company to have all lectures simultaneously interpreted into German, English, Spanish, French, Romanian, and Russian.
Appreciation for HOFMANN's efforts is proven by the attendance of the audience who are amazed each year about the quality, topicality, and professionalism of the offered program.
From Peru to New Zealand and from Iceland to South Africa, the worldwide leaders of road marking technology profit from the very recent information – with increasing tendency.
Even though the valuable technical lectures provide enormous technical input, illustrative demonstrations during the TechnologyDay are also emphasized. Each year the guests can satisfy themselves in practice as to the latest machines and technologies. Numerous technical innovations here are ready to be tried out. Many equally significant and important exhibitors from the family of road marking technology round off the practical demonstrations with their trade show booths.
National as well as international visitors have already confirmed to HOFMANN: If you want to keep up-to-date on road marking technology, the TechnologyDay in Rellingen near Hamburg, Germany is an indispensable event.