The spraying technology which applies the paint compound without air pressure is called the Airless spraying method. Airless means exactly that: without air.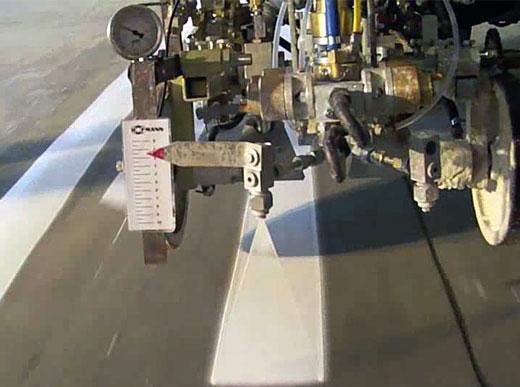 The Airless technology belongs to the group of spraying methods. Further application possibilities are the screed box mode, the bonding or roll coating mode, the spreading mode and the extrusion mode.
This is how the Airless mode functions: The paint compound is applied with very high pressure (in a range from 20 to 25 bar) very systematically onto the ground. This first presses the paint compound through a nozzle. The moment the compound emerges from the nozzle the pressure drops substantially, thus ensuring the very fine atomization of the compound.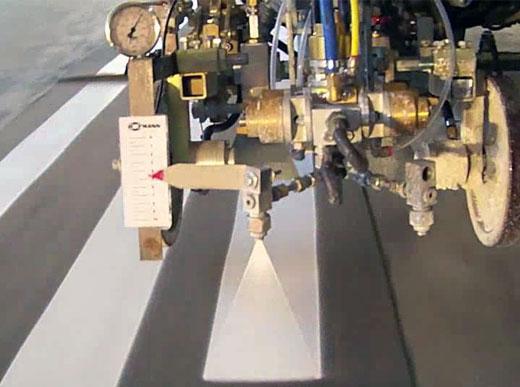 The Airless spraying technology achieves even more economy and efficiency
A very significant advantage of the Airless spraying method which works without air pressure is that this airless technology is much more effective and economical as compared with the low-pressure marking. Airless means that a high area output can be achieved. At the same time, no air means less spraying mist is developed so that paint does not settle onto surrounding areas unintentionally. The Airless spraying method also eliminates the corresponding preparatory work such as taping and covering.A further advantage of the Airless method as opposed to atomization with compressed air is that bubbles no longer develop on the surface to be painted, and paint is distributed even more finely.
The pressure effect variator for the Airless spraying method automatically ensures a consistent line width.

Precision is an important competitive advantage. It is therefore important to ensure that the required consistent line width is maintained exactly even when driving at different speeds. The pressure effect variator developed by the market leader for road marking technology, HOFMANN GmbH in Rellingen, Germany, also ensures the necessary accuracy and safety for the Airless technology.
This automatic regulation is necessary because the quantity of paint that is pressed through the spraying nozzle each second increases as the speed increases. This in turn increases the pressure in the paint line that leads to the pressure nozzle. If the distance of the gun to the pavement were kept the same, then the spraying angle and thus the line width would also increase. An absolutely equal line width must be guaranteed in any case; even then when the speed changes. That is why HOFMANN developed this automatic regulation.

HOFMANN Airless Marking Technique
Go to glossary